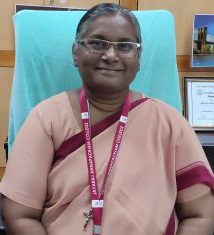 Rev. Sr. Dr. S. Jesurani,  SAT
Principal
Email : principal@annejac.ac.in
From the Principal's Desk
     Jayaraj Annapackiam College for Women (Autonomous) functions with the noble aspiration of uplifting the ethical, moral and educational standards of the marginalized women with the vision, 'Empowering Rural Women to be the agents of Social Change', through the motto 'Serve with Love'.  Under the dedicated management of the Sisters of St. Anne, Tiruchirappalli, the College has been pursuing its goals and objectives assiduously and has earned the reputation for its sterling service in the field of higher education.  Besides the unique distinction as the first autonomous college in Theni district, it enjoys the prestigious status of being the first grade college, among the Colleges affiliated to Mother Teresa Women's University, Kodaikanal.  In recognition of the peerless, pioneering service in imparting quality higher education to the underprivileged rural women, the college was awarded 'A+' Grade by Scoring 3.46 CGPA in the  National Accreditation Cycle – 4 by NAAC on 2nd February, 2021.
     The College Campus is endowed with serenity and quietude, conducive to research and academic pursuits. The College offers 17 U.G. Programmes; 9 P.G. Programmes; 6 M.Phil. and 6 Ph.D. Programmes, and  17 Certificate, 6 Diploma, 2 Advanced Diploma and 1 Post Graduate Diploma Courses under Choice Based Credit System (CBCS) through a relevant, learner-centred, skill enhancing, job and value-oriented curriculum. UGC has sanctioned two new programmes under Voc. for this academic year. The college is supported by DST – FIST from the Academic year 2015-16 to enhance research activities.
   Since its inception, for nearly half a century now the College has been committed to women's education and endeavours to promote transformation in  both personal and societal spheres. The management aims at creating an atmosphere that would provide holistic growth of the students and help realizing their dreams.
     All Courses and Programmes offered are student-centred, providing abundant opportunities for self-development, employment and leadership. We are blessed with a team of motivated and highly qualified faculty who are actively interested in the welfare of the students and prove to be efficient educators and mentors. They also proactively engage in research and extension activities.
     The campus has excellent infrastructure facilities and is ever abuzz with academic, curricular, co-curricular and sports activities. Various events in departmental, interdepartmental and inter-collegiate levels are organised all through the academic year to identify and hone the talents of the students. Seminars, conferences, symposia, major and minor research projects and other research activities provide the much-needed rigorous educational atmosphere for our students and teachers.
     An African proverb rightly says, "Educate a man and you educate an individual; educate a woman and you educate a nation". We at Jayaraj Annapackiam College for Women believe in making a positive change in the society through molding young women into becoming intellectually excellent, emotionally independent, morally upright, financially empowered and socially responsible citizens.
     As we climb the ladder of victory to seek, to  strive and to fill the sky with glorious sparks which will keep us ignited, may the Almighty be our power, strength and guiding pattern to take us towards the zenith with His immeasurable Blessings. For to us, every student is precious.