Department of B.Voc.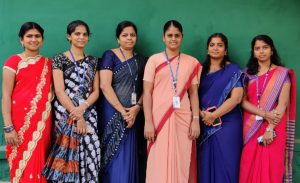 PROFILE
               The Bachelor of Vocation was started on 30th July 2019 by introducing two courses namely Bachelor of Vocation in Health Care & Bachelor of Vocation in Beauty Wellness, in order to bring holistic formation of students with skills for the employment, concern  for the society, environment and national development. It aims to serve as a character building education system minimizing the College dropout rate and it also aims in achieving poverty alleviation. The beneficiaries are the children and women who belong to economically and socially disadvantaged groups.
                Under the National Skills Development Corporation, many Sectors and  Skill Councils representing respective industries are being established. One of the mandates of Sector Skill Councils is to develop National Occupational Standards (NOS) for various job roles in their respective industries. It is important to embed the competencies required for specific job roles in the higher education system for creating employable graduates.
               The University Grants Commission (UGC) has launched a scheme on skilldevelopment based on higher education as part of college/university education, leading Bachelor of Vocation (B.Voc) Degree with multiple exits such as Diploma/Advanced Diploma under the NSQF.
The certification levels will lead to Diploma/Advanced Diploma/B. Voc. Degree in one or more vocational areas and will be offered under the aegis of the University.
| | | |
| --- | --- | --- |
| Award | Duration | Corresponding NSQF level |
| Diploma | 1 Year | 5 |
| Advanced Diploma | 2 Year | 6 |
| B.Voc. Degree | 3 Year | 7 |