CHRONICLE OF SAT
CHRONICLE OF THE CONGREGATION OF THE SISTERS OF ST. ANNE OF TIRUCHIRAPALLI
     The Congregation of the sisters of St. Anne of Tiruchirapalli had its origin in the 19th century, when child marriage and consequential early widowed were rampant even among the Catholics. Widows were treated as outcasts and inauspicious and subjected to untold suffering and inhuman treatment besides the social stigma stamped on them.
     Our Foundress, Rev. Mother Annammal was born in 1836 at Varaganeri, Palakarai, Tiruchirapalli, Tamil Nadu, India. Owing to cholera, many young girls, including our foundress, were widowed and treated worse than slaves by their families. The society didn't permit them to remarry.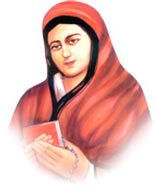 Our Foundress heard the divine call to bring succor to widows. She courageously went about begging for the sick and the needy, educating the little ones and praying with the Sakkiliar community. Inspired by her service, many young widows joined her.
     As the number grew, she approached the Bishop of Tiruchirapalli His Excellency Bishop Alexis Canoz S.J. to start a community for the widows. Due to financial difficulties the permission was denied. But she assured him that she would not ask for any financial aid and begged for permission which is granted later. The vibrant and burning urge of a single woman sowed the first seed for the vocation of the Congregation of the Sisters of St. Anne, Tiruchirapalli to liberate the Indian women from the shackles of inhuman and irrational social practices and to empower women. Trusting in divine providence, Rev. Mother Annammal founded the first community with nine widows on 2nd February, 1858.
     The power of the human spirit triggered for this noble cause in the heart of the foundress, Mother Annammal, was the marvellous beginning of a reformation unprecedented in the history of Indian womanhood. Her ministry among the poor, the sick and the downtrodden showed her other centered ministry. She discovered the face of God among the poorest and the suffering people. She totally relied on God's bounty and power and not on her capabilities, which in turn has borne bountiful and good fruits for the last 155 years in the annals of the Congregation. With the support of the local church, the ministry expanded in several dioceses in India and in various parts of the world. The members of the Congregation always have striven to live up to the charism of the foundress "Simplicity in Life and Service to the Poor" who wished to commit herself to the cause of the socially marginalized.
     Being concerned with the upliftment of the poor and the socially outcast, our ministry has taken different dimensions in the involvement of our multifarious activities, namely, evangelical, educational, social and medical, with a specific involvement in working for the differently abled persons.